Thank you to our 2021 Sponsors & participants for their generous support!!

Vertical Horizon NZ Ltd
Shandon Golf Club
Capital City Motors
Lemon Tree Cottage, Martinborough
Ken Laban
Christian Cullen & Tana Umaga
Chris Bishop
Ginny Anderson & Jacinda Ardern
Golf Warehouse & Driving Range
Orchestra Wellington
Interislander
Rydges Hotel, Wellington
RIDE Holidays
Boulcott's Farm Heritage Golf Club
Rob Law Max
IT Room
Asahi Beverages NZ Ltd
Ray White Kemey Bros
Linda & Ray Wallace
AV Media
Kapura
Dualguard
Royal Wellington Golf Club
Duncan Commercial Construction
Cactus Events & Promotions
My Food Bag
KPMG
Ricoh NZ
Cameron Harris Butcher
Intergroup
Over $21,000 was raised to provide buses for experiences to our tamariki in Taita and Pomare
Photos taken on the day are on our Facebook page

More fund raising and sponsorship
TAKA Wifi Project
In 2018, thanks to Chorus, Network4Learning and the Ministry of Education, 124 children from Rata Street School got free wifi access to their school's secure managed network. We are looking at how we can get this across to all neighbouring schools.  We are very thankful to our partners Chorus, Network4Learning and Ministry of Education for helping us address the digital divide in our community.  If you are interested in this project, please contact us on takatrust2015@gmail.com or give either Matt Reid or Cheryl a call.
Bikes4kids
In 2018 RIDE Holidays invited its clients to contribute to buying bikes to provide our tamariki with an opportunity to learn how to ride a bike.  They work with  TAKA Trust to train the children in bike maintenance, safety and education. RIDE Holidays matches the donations dollar for dollar and to date has bought over 300 brand new bikes and helmets for our local schools.
Ride Holiday's Karl Woolcott has put together a fund raising ride for March 2021 with all proceeds going to purchasing more bikes. Please click here for more information
Orchestra Wellington
In 2018 a free concert by Orchestra Wellington at the Walter Nash Centre was attended by more than 1000 people from the north eastern suburbs. Due to the popularity of this concert and the demand from the community we have repeated this concert annually.  We are always looking for sponsors/partners to provide this magical evening for our community if you are interested please contact us.
We have been able to stage the event with the support of Orchestra (Wellington, Lower Hutt Sports Awards, Hutt Mana Trust, Pelorus Trust, Hutt City Council and Creative Communities.
Donate online
You can support us anytime by making a donation to the TAKA Trust Give-a-little page
Have something else in mind?
Please talk to us if you have another fundraising idea or if you would be interested in partnering with TAKA Trust on a specific project, email us at takatrust2015@gmail.com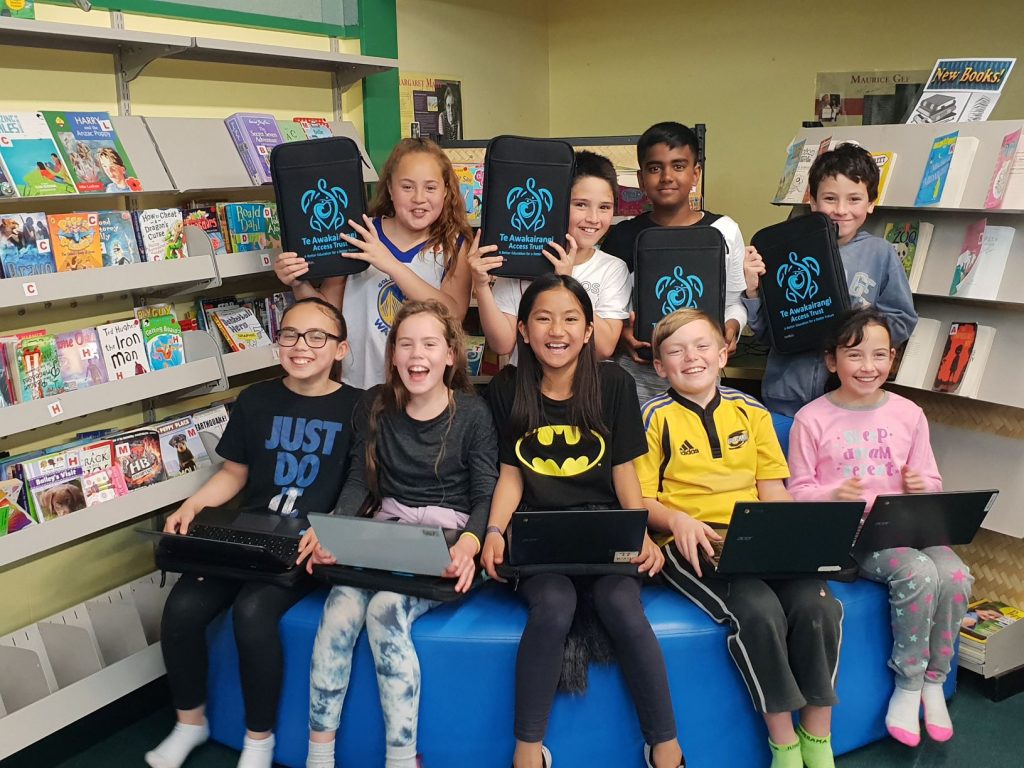 These happy children from Rata Street School have got free access to their school's Wifi at home. TAKA wifi is our current major fund raising focus as we believe that providing access to digital learning outside school hours will empower our tamariki.