Golf Day 2022
TAKA Trust Charity Golf Day in association with Hawkins Limited is TAKA's major fundraiser with proceeds from the event providing access and opportunities which empower our local tamariki.
We raise funds from the golf tournament through entry fees, sponsorships, and donations – monetary and in-kind. We seek raffe prizes, food and drink, and quality prizes for the charity auction. You can support the mahi of TAKA Trust by supporting the golf tournament, held on Friday 4 November 2022.
Event details:
Shandon Golf Club, Petone
Friday 4 November 2022
11am Registration opens
Registration: $320 for a team of 4, or $1,000 to sponsor a hole and enter a team of 4 players.
Contact us to register takatrust2015@gmail.com
More fund raising and sponsorship
TAKA Wifi Project
In 2018, thanks to Chorus, Network4Learning and the Ministry of Education, 124 children from Rata Street School got free wifi access to their school's secure managed network. We are looking at how we can get this across to all neighbouring schools.  We are very thankful to our partners Chorus, Network4Learning and Ministry of Education for helping us address the digital divide in our community.  We were happy to welcome 2degrees on board in 2021.   If you are interested in this project, please contact us on takatrust2015@gmail.com or give either Matt Reid or Cactus a call.
Bikes4kids
TAKA Trust has partnered with Ride Holidays who continue to share our kaupapa and raise funds for brand new bikes and helmets for schools. The bikes continue to be enjoyed by many tamariki and with our generous partners, more tamariki will be able to enjoy the gift of riding.
Ride Holiday's target for 2018 was originally 25 bikes for one school. They ended up providing new bikes to both Taita Central Primary and Randwick Primary Schools.
In 2019 bikes were supplied to Tui Glen, Naenae, Pomare and Pukeatua Schools. 2020 was a big year (despite Covid) and we supplied bikes to Te Kura Kaupapa Māori o Te Ara Whanui in the Hutt, and then provided bikes for no less than 4 more schools – Baird's Mainfreight in Otara, Natone Park, Cannons Creek in Porirua and Koraunui School, Stokes Valley.
Despite lockdowns and international shipping problems in 2021 the momentum kept going with bikes going into Glenbrae Primary in Auckland, and Te Kura o Hau Karetu in Upper Hutt-Heretaunga.
2022 has already been massive with bikes already delivered to Petone Central Primary, Arakura, St Michaels and Epuni in the Hutt. As well as Auckland school – Jean Batton primary. 5 schools so far for 2022, with more to come.
To date we have helped put 700 bikes into 25 schools across the years.
To ensure the new bikes remain in safe working order for the tamariki we also formed a small group of volunteers to visit schools and undertake a bike maintenance programme. We visit up to 10 schools a year. Not just the schools we've supplied bikes to but any school that needs help.
Ride Holidays' Karl Woolcott has put together a fund-raising ride with all proceeds going to purchasing more bikes. Please click here for more information.
Orchestra Wellington
In 2018 a free concert by Orchestra Wellington at the Walter Nash Centre was attended by more than 1000 people from the north eastern suburbs.  Due to the popularity of this concert and the demand from the community we have repeated this concert annually.  The 2022  Disco themed concert exceeded our expectations and more than 1400 people attended.  We are always looking for sponsors/partners to provide this magical evening for our community if you are interested, please contact us.
We have been able to stage the event with the support of Orchestra Wellington, Hutt Valley Sports Awards, Hutt Mana Trust, Pelorus Trust, Pub Charity, Hutt City Council, Creative Communities, Mitre 10 MEGA and KPMG.
Donate online
You can support us anytime by making a donation to the TAKA Trust Give-a-little page
Have something else in mind?
Please talk to us if you have another fundraising idea or if you would be interested in partnering with TAKA Trust on a specific project, email us at takatrust2015@gmail.com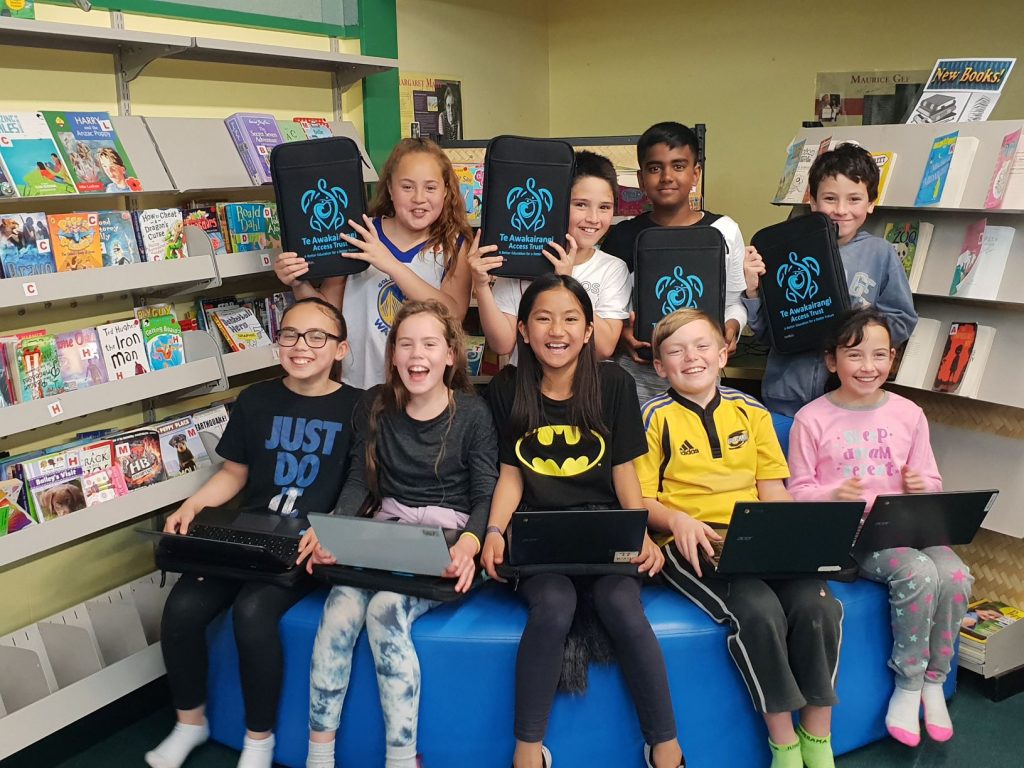 These happy children from Rata Street School have got free access to their school's Wifi at home. TAKA wifi is our current major fund raising focus as we believe that providing access to digital learning outside school hours will empower our tamariki.